The programme is not currently available, it will not have new editions in 2021.
We're at a tipping point. Renewable energy generation and flexible consumption are poised to reshape the market. Driving this is innovation in battery storage with the flexibility to offer flexible solutions across a breadth of sectors. But to fulfil this potential and realise the promise of the €255 billion opportunity that battery represents in Europe alone, we need the next-generation skills, competencies, vision and leadership to truly make change happen.
The Battery Storage Expert Programme addresses the critical questions that underpin the structural transformation of the energy system. Participants will explore it all, from the role of batteries to their constituent parts; from the battery value chain to the integration in power applications; from the impact on the electricity market to ground-breaking business models. And they build the knowledge, the expert understanding, the technical and commercial insights and the human network to play a leading part in driving the global energy transition.

---
Programme benefits
Battery Storage Expert Programme is delivered by experts from the EIT InnoEnergy ecosystem, one of Europe's foremost authorities in sustainable energy, energy storage and business innovation.
This unique programme empowers participants to:
Expertly situate battery storage within the route towards a zero-emission society and decentralised energy market;
Link energy storage strategies and roadmaps to European policy;
Master the fundamental aspects and main characteristics of current battery technologies and relate them to battery parameters;
Compare emerging battery technologies and competing energy storage technologies identifying their strong and weak points;
Gain deep understanding of the battery value chain and identify the main challenges at each step;
Grasp battery life cycle assessment, recycling and second-life strategies;
Build expert knowledge of battery management, control and modelling of battery energy storage systems;
Summarise different applications of Battery Storage related to the electrical grid, to mobility (HEV/EVs), to industrial operations and to consumer electronics, and
Expertly assess the potential and relevant challenges of implementing new battery energy storage business models.
 Participants will be granted a professional certificate upon successful completion of the programme  
---
What will participants learn?
The Battery Storage Expert Programme immerses participants in the transition to a sustainable energy system and low-emission society forward and what the role of batteries in this puzzle is. They will find out what electrification will mean for large sectors such as mobility, industry and the electricity system and which new business models exist to bring new opportunities. And they will acquire a comprehensive overall view across the battery energy storage value chain.
The programme consists of a combination of online courses, a follow-up by a topic specialist, a capstone project and a face-to-face activity, all in one package. The course start and end dates are fixed and subscribers to the programme need to follow the fixed course schedule.
The learning journey starts with a series of six, distinct, online courses that participants can pursue at their usual study location:


Course 1: Examine the challenges faced by the energy system to accommodate the upcoming changes and how batteries can promote and accelerate this transition looking into the drivers and barriers for relevant business models implementation.
Course 2: Discover the electrochemistry and operating principles of batteries including current, emerging and cutting-edge battery technologies.
Course 3: Explore the entire battery value chain, from manufacturing to recycling focusing on sustainable growth of the battery sector and ethical and environmental aspects.
Course 4: Build the knowledge and skills to ensure battery cells perform in a conformant way before being implemented in different types of applications.
Course 5: See how battery energy storage is disrupting the energy space through battery storage applications, and examples of innovative business cases.
Course 6: Analyse market conditions and assess how innovative new business models can fit with regulations within the EU but also on a national level.
Participants will receive support during each course on predetermined time slots by a topic specialist who will be available for two hours (1 hour synchronous & 1 hour asynchronous) to answer questions. The online course content will remain open for participants until two months after the end date of the last course.
Participants will also come together with their peers and faculty during a face-to-face activity, consolidating and deepening their knowledge and analysing the relevance to their business.
Finally, the capstone project will give participants an opportunity to deepen their learning while they apply the knowledge and skills acquired during the programme. The capstone project will focus on specific thematic areas that occur throughout the programme. Participants will have 3 weeks to complete the project with guidance from thematic area advisors. During these 3 weeks, each participant will be entitled to 1 hour of interaction with their dedicated advisor and will receive feedback on the capstone project.
Complete timeline for run 2 in 2021 (Face-to-face programme in Budapest, Hungary on 21-22 September 2021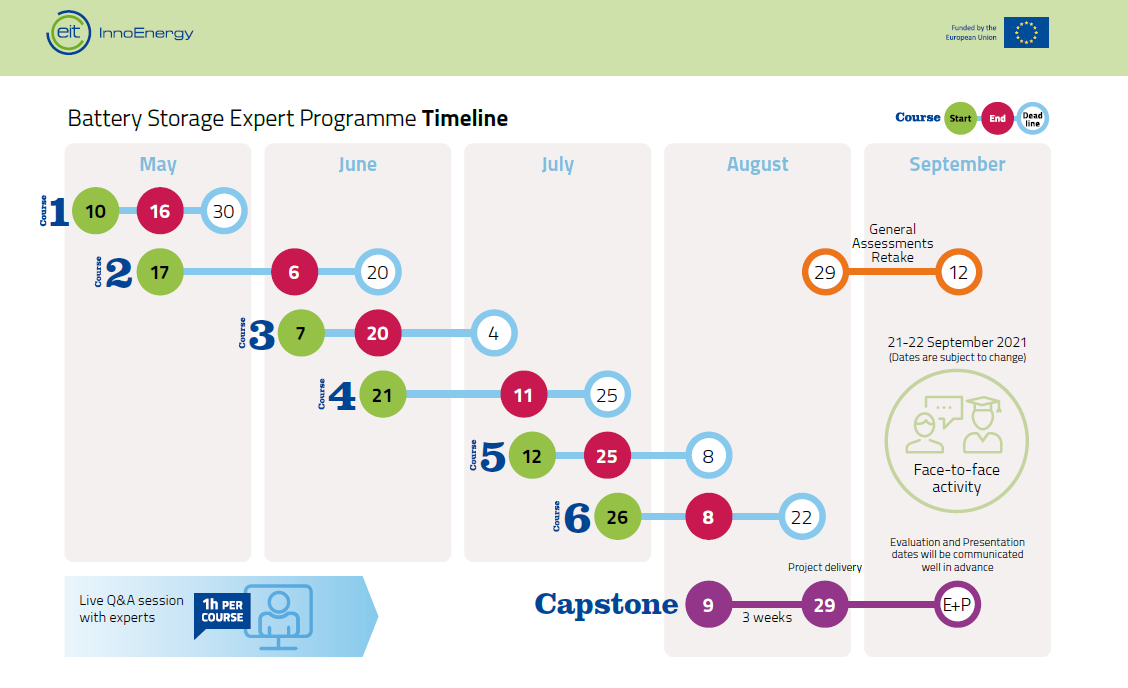 ---
How is the programme evaluated?
In-lesson quizzes serve as formative self-evaluation. The outcomes of this self-evaluation do not count towards the requirements needed for the course certificate.
A general assessment takes place at the end of each course consisting of multiple-choice questions and open questions. To successfully complete the programme and receive a Certificate of Achievement from EIT InnoEnergy, participants need to obtain a minimum score on each general assessment. The submission of the general assessment is due at the end date of each online course. There is an option to retake the general assessment if participants do not manage to achieve the required score.
Lastly, the capstone project will be evaluated by the thematic area advisor.
If you have any additional questions, see our list of frequently asked questions
---
Who will benefit most?
This programme has been specifically designed for experienced and young professionals, today's and future strategic leaders, preparing their own and their companies' skill-set for the energy transition. 
Take the next step. Prepare to lead innovation at your organisation today.
If you are interested in this programme and would like more information to help you decide if it is right for you or your organisation, please contact Jan Verveckken on +31 646 959 657 or via jan.verveckken@innoenergy.com
Alternatively, you can request a call-back and we will contact you.
InnoEnergy | Terms & conditions